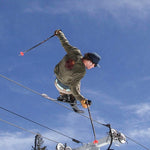 NICKNAME I don't really have one, unfortunately, but free Tahoe Trail Bar to whoever can figure out what AJ stands for WHERE ARE YOU FROM? I was born and raised in South Lake Tahoe, so you could say I got super lucky! WHERE DO YOU CURRENTLY LIVE? I still live in Meyers, for whatever reason I can't seem to leave. TELL US ABOUT YOURSELF I am a 22-year-old freelance outdoor photographer from South Lake Tahoe. At six months old I received my first ski pass to Kirkwood Mountain Resort, unknowingly my entire life was going to revolve around the mountains....
---
NICKNAME: I don't have a good nickname, however Claire Bear is something some of my friends say;) WHERE ARE YOU FROM? Carbondale Colorado WHERE DO YOU CURRENTLY LIVE? South Lake Tahoe TELL US ABOUT YOURSELF: I am obsessed with the outdoors and always trying to push myself in the elements. I would say my favorite outdoor activities are backcountry riding (splitboarding), rock climbing, mountain biking, surfing, and exploring new peaks. Most of my friends say that I am an adrenaline junky who has a contagious smile. WHAT'S YOUR FAVORITE OUTDOOR ACTIVITY AND WHY: Backcountry riding, rock climbing, mountain biking, and...
---
rachidphoto.com Rachid Dahnoun combines his love of outdoor adventure with his artistic vision to create a touching photographic journal of the natural world. From breathtaking landscapes to gritty action photos, Dahnoun delivers compelling imagery to commercial clients and magazines across the globe. His clients include: National Geographic, ESPN, The Travel Channel, American Express, Microsoft, ARAMARK, AAA, Travel and Leisure, Expedia, Lowepro, SKI Magazine, the New York Times and many more. Dahnoun's passion for the outdoors and adventure fuels his vision through the lens. Camera in hand, you will find Dahnoun chasing friends down bottomless powder slopes, pedaling through endless miles...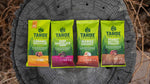 Recent Articles