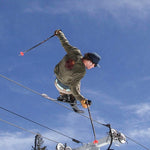 NICKNAME
I don't really have one, unfortunately, but free Tahoe Trail Bar to whoever can figure out what AJ stands for
WHERE ARE YOU FROM?
I was born and raised in South Lake Tahoe, so you could say I got super lucky!
WHERE DO YOU CURRENTLY LIVE?
I still live in Meyers, for whatever reason I can't seem to leave.
TELL US ABOUT YOURSELF
I am a 22-year-old freelance outdoor photographer from South Lake Tahoe. At six months old I received my first ski pass to Kirkwood Mountain Resort, unknowingly my entire life was going to revolve around the mountains. Growing up in the Sierra Nevada of California was a blessing. At a young age, I learned the ropes of mountain travel. Going to Yosemite to climb with my Dad or backcountry skiing with friends. I have a deep respect for the areas I love the most. So when I turned thirteen and received a point and shoot camera I ran around with my friends shooting everything I could. I felt the inevitable need to show these places to the world through photos. Eventually giving way to bigger and better equipment, I started my professional career at 19 years old. I've been able to travel and see the world with a camera in tow. I am so lucky that I have the opportunity to live a passion-filled life.
WHAT'S YOUR FAVORITE OUTDOOR ACTIVITY AND WHY:
I love to ski. Nothing makes me more grounded or happy as skiing does. I can go on a super epic ski tour or ski laps with my friends at Sierra and still find an immense amount of joy. Skiing is so versatile, and there are so many facets to enjoy it in. No matter what skiing will always be one of the driving forces of my life.
WHAT'S YOUR FAVORITE SEASON?
I really enjoy spring, just because you can pretty much go climbing one day and maybe catch a sleeper pow day the next. Plus I have a huge soft spot for corn skiing.
WHAT'S ONE SONG YOU COULD LISTEN TO FOREVER, FOR THE REST OF YOUR LIFE?
Oh man, this is a tough one. I like a lot of music. Home by LCD Soundsystem is a favorite, also Morning Dew (Lyceum, 72) Grateful Dead, and Bam by Jay Z gets me pumped up to do flips on my skis. Sorry, I can't just pick one.
WHAT'S YOUR PROUDEST ACCOMPLISHMENT?
Any time I get my work published in print is huge, still get the jitters every time that happens.
IF YOU HAD ONE WISH, WHAT WOULD IT BE?
I'd wish for more Skymile points so your boy could finally cop some cheaper flights.
WHAT'S ONE GOAL YOU HAVE THIS YEAR?
I would love to have some more time down in the Eastern Sierras this year. Whether climbing or skiing, I would enjoy tagging some larger objectives down there.
WHY IS PLANT-BASED, NON-GMO, GLUTEN-FREE FUEL IMPORTANT TO YOU?
I am honestly pretty lazy when it comes to eating food. I skip meals often and out on adventures I barely pack anything nutritious. Also, I think it's really hard to find anything that I enjoy eating in the mountains. Bars tend to be dry, bland and filled with sugar, and frankly not appetizing. When I picked up Tahoe Trail Bars I actually found something worth eating. A chocolate flavor with cherries that is actually delicious and not too sweet. I love everything about mangos so to actually have a bar with REAL mangos in it was a home run. Now all I need in my pack is Tahoe Trail Bars and some jelly beans.
IS THERE ANYTHING ELSE YOU WOULD LIKE TO SHARE WITH US? GOT ANY BIG PLANS THIS SUMMER?
I'm absolutely terrible at every ball sport ever, and not competitive whatsoever. I think anyone I've ever tried to play sports with can vouch for this. I used to (try) to play ping pong with co-workers and got hit in the face with the ball like 6 times a game. I think this explains why I found my place in the mountains. Maybe this summer I'll work on my hand-eye coordination. Hire a coach or something, see where it takes me.