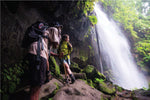 Recently I was commissioned by Backpacker Magazine to shoot a two week assignment documenting the 115 mile Waitukubuli National Trail on the Caribbean island of Dominica. The story ran as the feature in the March 2016 issue of Backpacker Magazine (print and online).
"The rumble coming from somewhere off in the rainforest should cue me to trouble. I'm hiking toward 275-foot Middleham Falls, the tallest cascade on the Caribbean island of Dominica, and I expect to see what I'd previewed in photos: A gauzy, decorative ribbon trickling into the kind of pool where tropical maidens in shampoo commercials lather their hair. I'd imagined taking a dip myself, if only to wash away the grime of my third day on the Waitukubuli National Trail (WNT), a new 115-mile path that runs the length of the island and links hot springs, rainforests, cliff-rimmed beaches, and waterfalls. But recent rains have turned the normally tame Middleham into a neck-snapping fire hose." – Kelly Bastone
If you are looking for non GMO, vegan, gluten free energy bars for on the trail or off shop Tahoe Trail Bars. Read about our mission to build 1,000 miles of trail in 10 years. If you've never tried a Tahoe Trail Bar, now's your chance to see what all the fuss is about. Use the coupon code: PlantBasedFuel and receive $5 off your order. Buy Bars here. Savings never tasted this good!