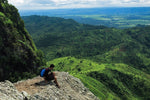 The best backpacking snacks will be ones that are easy to eat, lightweight, nutritious, and will give you lasting energy. While meals may provide the bulk of your calories on the trail, your snacks keep you energized when you are on the go. 
In this post, we've shared some of the best backpacking snacks that are nutritious, lightweight, easy-to-store, and convenient. 
What are some of the best backpacking snacks?
Bars and cookies
Protein bars, granola bars, fig bars, protein cookies, and cookie bites are all fast and easy ways to carry a lightweight, high-calorie snack on the trail. 
Some of the most popular packaged bars to take backpacking include: 
Larabars
Clif Bars
Kind Bars
Bobo's
ProBar
Luna Bars
RX Bars
GoMacro
Lenny & Larry's Cookies
Nature's Bakery Fig Bar
Packing a few kinds of bars and cookies along for your trip will not only add variety but can also add some different nutritional value to your snack breaks. Some of the bars listed above include different types of carbohydrates. Some of them will also have nuts, fruits, and vegetables blended to provide hard to get nutrients when relying on processed foods. 
Bars and cookies are among the most accessible backpacking foods to make ahead of time as well. Consider making your favorite batch of oatmeal cookies with some added protein powder the day before you leave and pack those. 
Or you can follow a new recipe you find online or get from a friend to make granola bars. Making your granola bars for backpacking allows you to personalize them to fit your needs. For instance, you might like to have an energy bar in the morning. In that case, you can add coffee or espresso to your homemade bars. Then for the bars, you snack on in the afternoon, you can enjoy a nice boost of energy with peanut butter and date bar. 
If you decide to make your granola bars for backpacking, get some reusable packaging like wax wraps from Khala & CO to keep them fresh and save on trash. 
Dried fruits
Dried fruit is a diverse, lightweight, and delicious backpacking snack that will add a boost of natural sugar to your. 
Where can you get dried fruits?
Most grocery stores will carry dried fruits in bags but also look in their bulk food section. Most bulk food sections have a wide variety of dried fruits, allowing you to get the portions you want and cut down on waste. 
What are some of the best dried fruit snacks for backpacking?
Some of the best dried fruits to bring with backpacking include: 
Dates
Mangos
Apricots
Banana chips
Apples
Figs
Cranberries
Pears
Tomatoes 
Fruit bars, fruit strips, and gummies
Fruit bars, fruit strips, or fruit gummies are convenient options for backpackers that would like to optimize weight, storage space, and the consumption of energy-dense snacks. Some examples of fruit bars you can buy include: 
That's It
Bearded Brothers Food Bars
Tahoe TrailBar
Just Great Stuff Antioxidant Bars
Pure Organic Fruit Bars
Kind Whole Fruit
Clif Kid Organic Z-Fruit
Good & Gather 
Peaceful Fruits
Solely Fruit Strips
Can you make dried fruit and fruit strips at home?
Dried fruit, fruit strips, and fruit leathers can be something easy to make at home if you have a dehydrator. While you can make them in the oven, using a dehydrator is recommended. For the most part, fruit can simply be cut up and put into a dehydrator.
Dehydrating fruit can save you money and also prevent food waste. 
Trail mix and nuts
A mix of nuts and dried fruit gives you lasting energy, and it is easy to carry. Generally, nuts are a good source of fiber, fat, and protein while dried fruit provides a natural boost in sugar. 
GORP (Good old raisins and peanuts) are one of the most traditional trail foods out there, and for a good reason. 
Mixing your own trail mix allows you to easily personalize this snack option to fit your needs. 
Trail mix can be a healthier backpacking snack option, but not all pre-made mixes are made using strictly raw, natural ingredients. If you choose to buy a pre-made mix instead of making your own, look for mixes that are mostly fruits and nuts. Some brands will add sugary coatings, chocolate, and additional salt. While you are hiking, these additional ingredients may not be all that bad, but salt and sugar in excess is often linked to some health concerns. 
If there are no bulk food stores near you, consider ordering bulk nuts online or buying individual containers to mix your own. As a last resort, you can also buy the premixed varieties. 
Protein snacks
Protein helps to keep you full for longer, but it is not as easy for your body to digest and process as carbohydrates. Protein will help your muscles with recovery and repair while you are backpacking. 
Popular protein snacks for backpacking include: 
Tuna and salmon packets
Loma Linda Tuno (vegan tuna alternative)
Jerky and meat bars (Epic Provisions, Wild Zora)
Vegan jerky (Louisville Vegan Jerky Co, Primal Spirit Food)
Protein powders
Protein bars
Powdered hummus (The Hummus Company)
Dehydrated refried beans
Nut butter
Many protein snacks, like bars, powders, and jerkies, can all be eaten independently. For other options like nut butter, dried hummus, and beans; you may want to bring some tortillas to put them on as a snack. These can also double as no-cook lunches.
Salty snacks
Some snacks, like nuts, will already be salty, but most backpacking snacks tend to lean towards being sweet. The thing is, your body will need some salt replenished if you are hiking all day. 
Pack some packets of olives (Oloves is a packable olive brand) or bring bagged pickles (Oh Snap! Is a packable pickle brand) to add some salt to your day and give you a mix of savory amongst the sweet. 
Other salty snack options include: 
Sesame sticks
Croutons or oyster crackers
Dried seaweed or kale chips
Love Corn or Corn Nuts
Cheese and baked cheese crisps
Jerky and meat sticks (vegan jerky too)
Packing a few condiment packets can also be an excellent way to add more salt to your day. You can pack a few salt packets, some soy sauce, ketchup, mustard, or any other condiments you enjoy. 
How many calories do you need to consume while backpacking?
Backpackers should factor in 4000 or more calories a day depending on the intensity of their activity. The calorie expenditure will vary depending on the terrain, heat, distance, weight, inclines, pace, and heart rate. 
Additional considerations for calorie expenditure may include your age, athletic ability and mobility, and your general fitness level. 
Calorie-dense backpacking snacks will also contain a decent amount of calories to help you reach your daily calorie intake. It is easy to eat less than you need to when hiking, especially if you aren't stopping often enough to snack. So always factor in snack and water breaks when you are considering when and where you are getting your calories on the trail.
Most hikers will need to consume anywhere from 2000-4500 calories each day when backpacking. 
Say you weigh around 160 lbs and are relatively physically fit. You decide to hike about 8 hours each day on your backpacking trip, give or take some time for breaks. On average, within that weight range and time spent hiking, you would burn around 4277 calories each day backpacking. 
How should you calculate your estimated calories?
There is a simple formula you can follow to help you calculate your calorie needs when backpacking: 
Calories burned per minute = (MET x body weight in Kg x 3.5) ÷ 200
To determine the MET (measurement of the energy cost of physical activity for a period of time) and estimated calorie expenditure, use this backpacking calories burned calculator.
How should you choose snacks for backpacking?
Backpacking snacks should be chosen based upon nutritional value and convenience while hiking. Knowing the weight, energy type (short-term vs. long-term), muscle fuel, hydration, and how perishable it is will all influence your choice. 
To simplify your decision, three primary things to remember are that the best backpacking snacks are going to be lightweight, easy to eat, and provide lasting energy as you hike. 
Some other things that you should consider include:
What types of things do you like to snack on regularly?
Do you have any specific dietary restrictions?
How often do you need to snack?
How long are you backpacking?
Do you need a variety of snacks, or are you content with just one or two options?
How many calories do you need to fill between meals while hiking?
What will the weather be like while backpacking?
If you're not sure how many snacks to bring when backpacking, you can base a lot of this on your predicted calorie expenditure. However, most backpackers will recommend eating every hour or two at a minimum. 
How often should you be snacking?
Consider consuming a small snack every 45 minutes. 
Pack it in, pack it out
While pre-packaged backpacking snacks add a great deal of convenience to your packing, remember that everything you bring into the outdoors needs to be packed back out. Bring along a trash bag when you are backpacking to ensure that you leave no trash behind. 
When possible, collect trash left by other hikers and pack your food in reusable bags and wraps. Using reusable bags and wraps can save you on waste and also cut down on the trash you have to carry out in the end. 
Reference Leave No Trace principles and knowledge before your trip if you are unsure of proper food and waste disposal practices when in the backcountry. 
Conclusion
You want to keep yourself fueled for your backpacking journey. But you still need to be strategic with the weight that you carry, as well as your energy intake and expenditure. (Check out this information on ultralight backpacking.)
The snacks recommended are ideal, however the bars that we've developed at Tahoe Trail Bar have the right balance when it comes to storage, nutrition, weight, taste, freshness, and convenience when you are out on the trail. Click here to order some of our energy bars today.