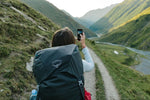 In many ways, backpacking is the ultimate adventure. With nothing but the tools you carry on your back and the boots strapped onto your feet, backpacking allows you to unplug from the daily grind and set out on a quest to explore the land. For many outdoor enthusiasts, it's the best way to take a walk on the wild side!
But while the thought of shoving all of your survival necessities into a pack and shouldering them on the trail is undeniably appealing for many wanderlust-stricken adventurers, carrying all that weight can be hard on both the body and the mind. 
This is where another backpacking option comes into play: ultralight backpacking. 
This backpacking technique involves plenty of skill, investment, and know-how. But once you know how to do it, ultralight backpacking could result in a more comfortable - and maybe even more rewarding - journey. 
Here's everything you need to know about ultralight backpacking: what it is, what to pack, and how to have a successful trip into the great outdoors. 
Article Preview
Ultralight backpacking can make your backpacking adventure much easier by minimizing pain and giving you more energy to enjoy the moment. 
One of the best ways you can lessen the load is by investing in lightweight versions of the four backpacking essentials: your pack, shelter, sleeping bag, and sleeping pad. 
When it comes to food and water, you'll need to plan carefully. Prioritizing nutrient density and having water treatments on hand will make this easier. 
Ultralight backpacking may require more time, skill, and money than "regular" backpacking. 
What Is Ultralight Backpacking? 
As you can probably guess from the name, ultralight backpacking involves minimizing the weight of your pack so that it's as light as possible. Because backpacking requires carrying everything you need for your outdoor adventure on your own person, ultralight backpacking requires skill (and perhaps some higher-tech equipment) to lighten your load without sacrificing the essentials. 
There's no set definition for how many pounds constitutes an "ultralight" pack. But as a general rule, you'd probably want each of your Top Four essentials (pack, shelter, sleeping bag, and sleeping pad) to weigh no more than 2-3 pounds each. This would give you a base weight of roughly ten pounds to start, which will then increase from all the other variables like food, water, and tools. 
Benefits of Ultralight Backpacking
So why would one choose to go ultralight for their backpacking journey? 
Fewer aches and pains
It's thought that every extra pound you carry translates to about 2-3 pounds of pressure on your joints, which explains why you feel so sore and achy at the end of a long hiking excursion. Besides the exertion required to trek through the trails and up and down mountains, backpacking also means that you have to carry multiple pounds of extra weight for your necessities. 
So for beginners and seasoned hikers alike, carrying an ultralight pack can mean way less pressure on your joints. This could make hiking a whole lot easier and far less painful for you, especially as you're trekking up those steep switchbacks! 
Increased speed
Ultralight backpacking is also a great option for people who want to get further and explore more without the weight of their pack holding them back. Because you are less weighed down by your gear, ultralight backpacking could translate to better speed and mobility on the trail.
Less fatigue
Long-distance hiking is fun and exciting, but let's face it: it's tiring. And unfortunately, the more weight you add to the equation, the more tiring it can be. Having an ultralight pack that still covers the essentials quite literally takes some of that weight off of your back so that you can enjoy your adventure more, preserve your energy, and focus less on the physical discomfort. 
Downsides of Ultralight Backpacking
But while ultralight backpacking is ideal for anyone who wants to minimize their discomfort on the trail, it's not always going to be the right option for everyone. 
Could be more expensive
Unfortunately, lighter does not necessarily translate to cheaper when it comes to backpacking. There are plenty of lighter options for your survival essentials like shelter and clothing, but they are usually made with higher-tech materials that cost more than their heavier counterparts. 
Compromises required
Ultralight backpacking is also tricky because it requires a fair bit of sacrifice. When every ounce counts, you might find that you have to leave behind some things that are not strict necessities but could make your trip easier, like your full first aid kit versus the absolute essentials (more on that in a moment). This can be an intimidating prospect, especially if you're a newbie on the trail. 
"Backpacking is the art of knowing what not to take." – Sheridan Anderson. 
Getting Your Ultralight Pack Ready 
Preparation is key no matter how much time you're planning on spending out in the great outdoors. So when it comes to ultralight backpacking, knowledge of your necessities is imperative! 
Here's a list of the essential gear, tools, and rations every backpacker needs to have. 
Backpacking Basics: Ultralight Backpacking Gear Must-Haves
There are four non-negotiables in backpacking: your shelter, sleeping bag, sleeping pad, and your pack itself. If you're able to shave weight off of these four major items, you'll go a long way in shedding significant pack weight. 
Pack
The pack is the quintessential cornerstone of your backpacking trip. Hiking packs are measured in liters (L) which indicate the volume that they can carry. While a traditional backpacking pack is usually around 60L or more, you can shave down some critical weight by choosing a lighter frameless pack. For most ultralight hikers, a 40-50L pack should give you enough room to hold all of your necessities without any unnecessary weight.
Shelter
An adequate backpacking shelter gives you a place to sleep without being exposed to the weather or other outside forces in the great outdoors. A minimalist tent is the most obvious option here - you can tarp-style tent that you can hold up with your hiking pole. If you want to go even lighter and simpler, you might also consider using a bivy sack or even a hammock. Keep in mind the capacity (if you're going to be sharing) of your shelter as well as any necessary protection from the elements (ie a rainfly). 
Sleep system
You'll need some kind of pad and sleeping bag to keep you comfortable and warm during your excursion. As you shop around for a lightweight sleeping bag, keep your location in mind so you can plan accordingly for the weather. You can always layer up with your clothing as well. 
For your sleeping pad, consider a lightweight foam option or an inflatable version. These will both take up less space and weigh less than other pads. 
Food And Water
After you get your Top 4 backpacking essentials ready for an ultralight trek, it's time to start considering your biological necessities: food and water. 
Food For Backpacking
Backpacking is one of the most physically taxing things you can do. After all, you're carrying a large amount of weight, usually over rough, uneven terrain, and you're doing it for hours at a time. As such, it requires a ton of food for energy and nutrition (usually more than 4,000 calories!) 
The name of the game in ultralight backpacking is to pack foods that are extremely nutrient-dense but that take up as little space and weight as possible. A couple of ideas for backpacking food: 
Dried and/or shelf-stable foods are usually the most efficient choices, weight-wise. Think dried fruits rather than fresh, and jerky rather than meat. 
"Instant" foods that require minimal prep are also good choices. For example, you can simply boil water and add it to oatmeal to prepare, rather than having to cook multiple ingredients. 
Pack high-calorie, high-protein options. Nuts and nut butter are a great way to add extra calories, for example. You can also carry servings of protein powder in a plastic baggie to mix with water later. 
Water For Backpacking
Staying well-hydrated on the trail is absolutely crucial for your body. But because water is so essential but so heavy, you have to plan ahead carefully. Always keep dependable water filters and purifying tablets on hand so that you can safely refill on the trail. Carry as much water as you'll need to get you to your next refill point, preferably in lightweight plastic bottles rather than heavy canteens. 
Other Backpacking Tools And Necessities 
Navigation tools
If you're setting off on a long trail (especially a multiple-day thru-hike), you're going to want to have some navigation tools to make sure you're staying on course, like a trail map and/or a compass.
Multipurpose tool
Since you're trying to save both space and weight, a good multipurpose tool is a gamechanger. Try to find a good tool with all the necessary outdoor features like a pocketknife, firestarter, that has survival necessities like a pocketknife, firestarter, can opener, safety whistle, etc. 
Cooking tools
You'll also need a stove and some cookware to eat out of. Again, multipurpose is the name of the game here. For example, you can use a simple canister stove and a small pot that can also double as a mug. A spork can give you more options than a spoon or a fork individually. 
First aid kit 
Having a good first aid kit could make all the difference between a minor injury and a major one out there on the trail. For an ultralight pack, you might want to pare down to the bare essentials rather than taking an entire kit. Bandages/sterile pads, antiseptic, blister treatment, sun protection, insect repellant are good places to start.
Sanitary items
Even in the middle of the woods, good hygiene is key. Keep travel-sized soaps, toothpaste, and sanitizer on hand, and don't forget a small wad of toilet paper. 
Clothing
Lightweight, synthetic layers are staples for backpacking comfortably no matter the weather. You'll also want to bring an extra set of clothes for sleeping. Don't forget a hat, rain protection, and an extra pair of socks to boost morale! 
Lighting
You'll definitely need a good source of lighting besides the campfire to navigate your campsite at night. A good lightweight headlamp is a great option since it's small, lightweight, and can be used hands-free for a variety of scenarios. 
Know Before You Go: Other Ultralight Backpacking Tips
Research, research, research. 
Knowing what to expect on your trail is key to being adequately prepared. This is going to help you make key decisions on the clothes you'll bring, the insulation you'll need, et cetera. If you're going on a particularly long or strenuous journey, talk to someone who's done it before or read a guidebook - and bring relevant pages from that book on your trip if necessary.
Practice with your pack
It's a good idea to do a "trial run" with your ultralight pack, especially if you're just starting on your backpacking journey and aren't used to carrying heavy weights on your back for an extended period of time. Take your full pack out on a day hike so you can get a feel for what your backpacking trip is going to be like. 
Leave no trace. 
You're probably setting out on your trek in the first place because you love nature - so make sure to treat it right! As the old adage goes, "pack it in, pack it out." Don't bring anything in your pack that you're going to leave behind, and clean up after yourself. 
Finally, err on the side of caution. 
Even though the goal of ultralight backpacking is to take as few pounds as possible, it's important to remember that being out in the wilderness can present surprises of its own. At the end of the day and in a survival situation, it's better to be slightly overprepared than underprepared. 
Have Fun Exploring! 
As long as you've done your research, are putting safety first, and have all the necessities, backpacking is the ultimate way to disconnect and appreciate all that the great outdoors has to offer.