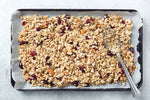 Many people turn to homemade energy bars as a cheaper and healthier alternative to over processed energy bars they might find at the grocery store.
Tahoe Trail Bars don't fall into that category — made with real food ingredients, the only difference between a Tahoe Trail Bar and a homemade energy bar is where it's made. 
Homemade Energy Bars vs Store Bought
There are many reasons why people don't trust store bought energy bars, and why they decide to make them at home. It's for these reasons that we decided to start making vegan energy bars, to offer our customers a healthier alternative that they can feel good about eating. 
People want ingredients that they can trust
It's simple: when you're making your own energy bars, you have more control over where you source your ingredients from, and can ensure they're good quality.
When you can hardly understand the ingredients list on an energy bar wrapper,
A) that's a red flag and you should put the bar down and walk away, and
B) it's almost impossible to know what you're actually eating.
At Tahoe, we value the highest quality food and want our customers to feel amazing about what they're putting into their bodies.
We use the highest quality nuts and seeds, combining them with delectable ingredients like real fruit and dark chocolate, to create delicious (and nutritious) meal replacement bars.
Many energy bars have a high sugar content
Like it or not, the standard energy bar that you've probably eaten dozens of times is jam packed with sugar — and not the good kind.
An Ohio State University researcher, Steve Hertzler, PhD, RD, conducted a study on the energy effects of common energy bars. It turned out that these energy bars yielded only a temporary sugar rush, like you might get from a candy bar — and did not provide the consumer with sustained energy.
And what's the point of an energy bar if it doesn't give you energy? 
When crafting Tahoe Trail energy bars, we stay far away from added sugars like high fructose corn syrup, and stick to slow burning carbs like gluten free oats as a reliable source of fuel. 
Store bought energy bars might not fit your diet
Many people with restricted diets decide to take matters into their own hands, instead of hunting down and paying top dollar for foods that they can eat. At Tahoe, we make our bars gluten-free and vegan so that almost anyone can enjoy a Tahoe Trail Bar. 
Homemade energy bars can have a greener impact
When you're making your own energy bars, you might be doing so because you want to have a greener impact on the environment. You can choose ingredients that are ethically sourced and environmentally friendly, and skip the wrappers that store bought energy bars are packed in. 
While making Tahoe Trail bars, we also want to have a positive impact on the environment, and take every step we can to do so. With our bars, we source ingredients that are grown in an environmentally friendly way and are certified non-GMO.
On a greater scale, our company's mission is to have a green impact nationwide. We partnered with 1% for the Planet and are committed to donating 1% of our revenue to organizations impacting local trails near you.
Our goal? To raise enough money through sales of our energy bars so that we can impact 1,000 miles of trails over the next ten years. With every Tahoe Trail Bar you eat, you are helping us reach our goal of rehabilitating trails so future generations can continue to enjoy the natural world.
What You Want in an Energy Bar
What exactly makes a good energy bar? You want one that provides you with sustained energy, is jam packed with nutrients, and tastes good.
It's easy to fill those parameters with homemade energy bars. But don't you wish you could find a convenient, pre-made bar that meets your needs?
This is where Tahoe Trail Bar comes in. These energy bars have natural ingredients including nuts, seeds, dried fruit, oats, and dark chocolate. Anything in that list you can't pronounce? We thought not.
Tahoe Trail bars contain fiber from natural sources (including dried fruit and oats), and healthy fats (from nuts and seeds) that fill you up and keep you satiated. Before you get out your mixing bowl and buy nuts in bulk, try a Tahoe Trail Bar to see if we can't fill your perfect energy bar niche. 
Energy Bars You Can Trust
At Tahoe, we wholeheartedly understand (and support!) people making homemade energy bars. In fact, that's how we started out!
We saw a gap in the market for gluten free, vegan bars that actually taste good, and have a green impact. And when we craft our bars, we always use the best ingredients. Let us know — how do our bars match up against your homemade energy bars? If you're into cycling, you can check out out post on the best energy bars for cycling.