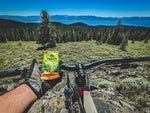 For camping, hiking, and mountain biking enthusiasts, Lake Tahoe is the ultimate destination to kick off your summer adventures during Memorial Day weekend. Nestled in the Sierra Nevada Mountains, this picturesque region offers a wide array of activities to satisfy your outdoor cravings. Here are the top five things to do in Lake Tahoe for an unforgettable Memorial Day weekend. Don't forget your Gluten-Free fuel and pack your favorite Tahoe Trail Bar!
Explore Emerald Bay State Park
Immerse yourself in the beauty of Emerald Bay State Park, renowned for its crystal-clear waters and breathtaking vistas. Hikers can embark on the Rubicon Trail, a 5.5-mile scenic hike that meanders along the shoreline and offers stunning views of the bay. Mountain bikers can enjoy the exhilarating singletrack trails, such as the Cascade Falls Trail, which leads you through a lush forest and rewards you with magnificent waterfall views.
Camp at D.L. Bliss State Park
Pitch your tent at D.L. Bliss State Park, a haven for camping enthusiasts. Set amidst towering trees and overlooking the turquoise waters of Lake Tahoe, this campground provides a serene and idyllic setting. Take advantage of the numerous hiking trails nearby, like the Balancing Rock Nature Trail or the Lighthouse Trail, both offering panoramic views of the lake and its surrounding landscapes.
Hit the Flume Trail
Mountain bikers should not miss the legendary Flume Trail. This iconic trail offers a thrilling ride with jaw-dropping views of Lake Tahoe throughout. Pedal along narrow singletrack sections and ridgelines, with the shimmering lake as your constant companion. This world-class trail promises an unforgettable experience for riders of all skill levels.
Conquer Mount Tallac
Lace up your hiking boots and challenge yourself to conquer Mount Tallac. This strenuous but rewarding hike takes you to the summit of one of Tahoe's tallest peaks, standing at 9,735 feet. The panoramic views from the top are absolutely awe-inspiring, showcasing the entire Lake Tahoe basin and surrounding mountains. Remember to pack plenty of water, snacks, and sunscreen for this epic adventure.
Relax on Sand Harbor Beach
After all the outdoor activities, take some time to unwind and soak up the sun at Sand Harbor Beach. With its sparkling azure waters and golden sandy shores, this beach is a tranquil oasis. Swim in the refreshing lake waters, enjoy a picnic on the beach, or simply bask in the beauty of your surroundings. Don't forget to explore the nearby Sand Harbor Nature Trail, which showcases the area's diverse flora and fauna.
Memorial Day weekend in Lake Tahoe offers an incredible opportunity to indulge in your favorite outdoor pursuits. Whether you're camping, hiking, or mountain biking, this stunning destination has something for everyone. So, pack your gear, embrace the beauty of nature, and make unforgettable memories in the breathtaking landscapes of Lake Tahoe.