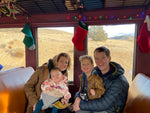 Our family does 2 baking traditions, making honeycomb and the cookie factory. My wife Nicole has honeycomb perfected, where she makes the dense crunch inner comb (very delicate to get the temperatures correct!), and then dips the chunks in dark chocolate. It has become a holiday for us to send it to all of our family. We also do what we call the cookie factory, where we make 8-10 rounds of sugar cookies in all kinds of holiday shapes. Then our family sits and ices the cookies at the counter, while sprinkles, flour, and laughter fly everywhere. It's a big mess and an even bigger joy. 
Since you're a big traveler, where do you choose to spend the Holiday season?
We spend a bit of time traveling to the coast in the winter to surf and enjoy the Northern CA beaches in Carmel, Monterey, and Santa Cruz. We also try to make a trip to either Hawaii or San Diego at some point to surf. 
What is your favorite holiday memory?
My favorite holiday memory is the first time my son got to meet Santa. He was SO happy and was beside himself. Being a father has really brought the holidays and traditions full circle for me, and it is so fun to see my kids excited. 
What are your favorite holiday treats?
I love my wife's honeycomb, my aunt's coconut macaroons, and our cookie factory sugar cookies with homemade icing!
What does the first snowfall mean to you?
 The first snowfall is a great reminder that ski season is coming, and this is when I usually do the "great switch!" What is this you ask? It is where I switch the adventure area of the garage shelves from mountain biking and beach gear to ski gear. I put away my bike helmets, shoes, repair stand, and clothes in a big bin above my shelves and I take out all my skis. I scrape the storage wax, service my bindings, and line up my downhill and backcountry gear. To me the first snowfall is also a reminder that the time has come to rest. I love the seasons and often run my business according to the seasons. Winter is a time for taking stock, making plans for the next year, and enjoying quieter, connected times with family. 
What do you do instead of mountain biking in the winter months?
I love to ski in the winter, both at the resort and in the backcountry on Mt Rose near Tahoe. I also like to chase winter swells surfing in Santa Cruz, Monterey and San Diego.