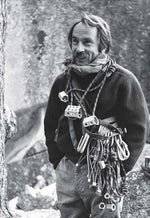 On Yvon Chouinard's announcement to donate Patagonia's profits to environmental activism – and why Tahoe Trail Bar is prouder than ever to be a part of 1% For The Planet
Last week, Patagonia founder and co-creator of the 1% For The Planet collective Yvon Chouinard announced that he would be donating Patagonia's future profits to the company's biggest mission: saving the earth. Here's why now, more than ever, we're proud to be members of 1% For The Planet. 
Like Tahoe Trail Bar, the massive outdoor brand Patagonia was first and foremost created based on a deep love for exploring the great outdoors. 
Nearly fifty years ago, mountain climber Yvon Chouinard started a small business to make rock climbing efficient for his customers. It eventually blossomed into an enormous multi-billion dollar company that remains a staple in the closets and gear of outdoor enthusiasts around the world. 
But as his fledgling business evolved into a massive corporation, the often-exploitative demands of running a business in a capitalist society began to take their toll. A self-described "reluctant businessman," Yvon has made several attempts to restore the very resources that his company requires to create high-quality outdoor gear. 
His environmental activism began with grassroots campaigns to protect vulnerable wildlife estuaries and has made its way into the very ethos of the Patagonia brand. In 2002, along with Craig Mathews of Blue Ribbon Flies, Yvonne Chouinard started 1% For The Planet in an attempt to help restore the natural resources that so many businesses make their profits off of.
But the work, of course, does not stop there. Due to the urgent creep of climate change that stems from humans overreaching and overusing the earth's limited and precious resources, much more needs to be done to ensure that our planet can continue to provide for us.
Chouinard gives away Patagonia to put the planet before profits
So rather than selling Patagonia and dealing with the uncertainty that its new owners would continue the mission, or taking the company public and being forced to make huge decisions that put capitalism before environmentalism, Chouinard decided to do something else completely. 
In a landmark decision, Chouinard announced that he would be giving away all future Patagonia profits to fight the climate crisis. What this means: instead of letting outside parties buy the company and move away from its core values, all the money that Patagonia makes will be invested right back into fighting the environmental crisis. 
 In his words, it's "going purpose" rather than "going public." 
1% For The Planet 
As a member of 1% For The Planet, Tahoe Trail Bar is prouder now than ever to represent the ideals that
Chouinard has based his legacy on: giving back to the planet that has allowed us to make money off of it in the first place. 
1% For The Planet is a collective of individuals and businesses dedicated to giving back to the planet that helps them make profits to begin with. Partners of 1% For The Planet donate 1% of their revenue to various local and global environmental partners that aim to make the world a more beautiful, sustainable place for generations to come. In our case, Tahoe Trail Bar dedicates 1% of its profits every year towards the restoration and preservation of trails in our own backyard and eventually throughout the country, so that people can safely and responsibly enjoy nature's playgrounds for generations to come. 
What Chouinard did is a message of hope for our future and the resiliency of the planet. We've always been a company that puts our trails and our natural resources at the forefront of everything that we do. Now, we're even prouder than ever to participate in a collective that was founded in large part on Yvon Chouinard's ambitious dreams to preserve the planet that we call home.
Featured image credit: https://en.wikipedia.org/wiki/Yvon_Chouinard