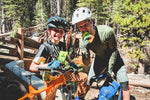 What is your favorite outdoor activity?
Mountain biking is definitely my favorite outdoor activity. I love exploring trails in the Tahoe basin and the Lost Sierra and going on MTB trips with my friends.
What is your favorite thing about your career(s)?
My favorite thing about owning the Tahoe Trail Bar is the sense of purpose I have every day, and the fact that each day presents different challenges. I also love the chance to work hard running the business well so that we can have the most impact giving money to trail building organizations.
What makes you laugh the most?
There's a guy on YouTube named CPG that makes fun of golfers. It gets me every time.
Top 5 favorite foods?
My grandmother's corn muffins
Brown rice
Tofu Fresh Rolls from Moo Dang Thai Food
Impossible Burgers
Straus Vanilla Bean Ice cream with my wife's chocolate chip cookies
What inspired your passion for helping rebuild trails across the U.S?
First and foremost, there is nothing I love more than a trail in the wilderness.It helps me disconnect from the modern life and get connected to what matters most.I truly believe that trails heal and recharge in a way nothing else can.
In 2020 I was participating in an entrepreneurial workshop where we were working on long term planning.The facilitator challenged me to come up with an audacious 10-year growth goal for the company.After thinking and thinking about what would really inspire me, it hit me like a bolt of lightning.I only wanted to grow the Tahoe Trail Bar if it would have a directly proportional effect on contributing to the preservation and development of trails. So we came up with a 10-year goal for revenue growth that would allow us to impact 1000 miles of trail.
What prompted the flavor profiles for your bars and how did you narrow it down to these particular flavors?
The original bar was really as simple as throwing a ton of ingredients in a mixing bowl.It was whatever we had around, and we knew it had to have peanut butter and chocolate. ☺
As we grew, we refined the recipe to be plant based, non GMO and gluten-free and asked ourselves, "What else would we want to eat for fuel on the trail?" Mango was born from wanting a summer, fruit inspired tangy flavor, and dark chocolate cherry came from the love of that chocolate and fruit combination.Caramel came along later because I love the salty sweet combo of caramel when I am 10 miles into a 20 mile mountain bike ride!
Favorite trail?
My favorite hiking trail is Rock Creek in the Eastern Sierra, and my favorite mountain bike trail is the Bench (East shore section of the Tahoe Rim Trail) in South Lake Tahoe.
Go to karaoke song?
Ice Ice Baby – Vanilla Ice
Favorite TTB Flavor?
The OG – Peanut Butter Chocolate
Best advice you've ever received?
Show up prepared, do your best, and make a little bit of progress every day.Consistent, informed effort is the key to long term success.
What does your perfect day look like?
I'd love to wake up to the sound of the river in a house in South Lake Tahoe, do some yoga on the deck, go to breakfast with my family, ride the Bench trail with my buddies and then go wake surfing with my family on a boat on Tahoe. I'd finish the day with a BBQ with friends where everyone brings instruments and we play music!
Do you have a nickname the locals know you by?
King
If you could have any superpower what would it be?
I would love to be able to play anything I hear in my head on both the piano and the guitar.
Last book you read?
The Psychology of Money by Morgan Housel.
The most unusual (to you) thing you've ever eaten?
I am not an "eat weird things" type of person…. So probably oysters?
What's your motto?
Always be growing.
If you had to describe yourself as an animal, which one would it be?
I always joke that I am a border collie because I always "need a job." My friends lovingly remind me to relax, because I am always go go go doing or fixing something. I guess it's the entrepreneur in me.
Would you rather vacation in Hawaii or Alaska, and why?
Hawaii for sure.I love the island vibe, the ocean, the warm weather and the ability to surf and swim.