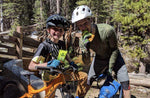 Cycling around Lake Tahoe is on many advanced cyclists' bucket lists, and for good reason. First of all, Tahoe has 300 days of sunshine a year. Plus, the clean mountain air, scenic views, and grueling elevation climb make this ride both satisfying and glorious.
Packing appropriate food for an all-day cycling trip is as important as ensuring your bike works properly. If you run out of food, you won't have enough energy to power you through the day. Energy bars are an easy and delicious way to ensure you're getting a proper amount of fuel throughout your ride. 
Born on the southern shores of Lake Tahoe, Tahoe Trail Bars were crafted intentionally for fueling you on your outdoor adventures. What better way to sustain your energy on a scenic ride around the lake than with a Tahoe Trail Bar?
Lake Tahoe Cycling and Energy Bar Guide
If you couldn't tell from our name, we love Tahoe and spending time on the trail. Our vegan energy bars are a perfect accompaniment to any outdoor activity in and around Lake Tahoe, including cycling. At about 75 miles, this ride will be strenuous, and you want to ensure you're well-equipped with proper fuel.
Best Energy Bars for Cycling Around Lake Tahoe
1. Peanut Butter Chocolate Tahoe Trail Bar
(5 grams of protein, 260 calories, 39 grams of carbs)
Although all of our bars contain slow-burning carbs, this one packs the most punch for replenishing your glycogen stores while you're burning calories on your ride. Savor the classic combination of peanut butter and chocolate while you enjoy the stunning views of Lake Tahoe.
You can get the Peanut Butter Chocolate Tahoe Trail bar here.
2. Mango Coconut Tahoe Trail Bar
(8 grams of protein, 220 calories, 30 grams of carbs)
Our unique recipe of mango and coconut will transport you to a tropical paradise. Cashew butter, nuts, and seeds provide high quality fats that'll keep you full as you cycle the Tahoe loop.
Get the Mango Coconut Tahoe Trail bar here.
3. Dark Chocolate Cherry Tahoe Trail Bar
10 grams of protein, 260 calories, 4 grams of fiber (37 grams of carbs)
This delicious bar combines dark chocolate and bing cherries, which are packed with immune boosting antioxidants. With ten grams of protein, the Dark Chocolate Cherry bar helps to recover your fatigued muscles after a long ride. If you love dark chocolate, this one's for you.
Get the Dark Chocolate Cherry Tahoe Trail bar here.
4. Caramel Chocolate Chunk

 

Tahoe Trail Bar
10 grams of protein, 230 calories, 3 grams of fiber, (29 grams of carbs)
Always save dessert for last! This decadent combination of caramel and chunks of chocolate will be a great reward as you're winding down your ride around Lake Tahoe. Another reason to enjoy this bar towards the end of your ride is its high protein content, which speeds up the muscle repair process.
Get the Caramel Chocolate Chunk Tahoe Trail bar here.
Tips for Fuelling Up While Cycling
Now you have a list of the best energy bars for cycling around Lake Tahoe. Let's take you through on how you can plan your snacking strategically to get the most out of your ride.
In the first stretch of your bike ride, you should focus on eating carbohydrates. You may have already done this prior to your ride at breakfast, or maybe you did a carbo-load the day before.
Carbs are delicious, and they also help replenish the energy that you're burning off as you ride. Your body turns carbohydrates into glycogen, which becomes your main source of energy. Regularly re-upping on snacks that contain carbohydrates helps you to maintain those glycogen levels.
How many carbs should you aim to eat while exercising for an extended period of time? The American College of Sports Medicine recommends eating 30 to 60 grams of carbs per hour, depending on the intensity of the exercise and other factors, including height and weight. 
Towards the end of your ride and afterward, you're going to want to start increasing the ratio of protein to carbohydrates. Protein helps your body recover your muscles after exercise, so it's important to incorporate that into a post-workout meal.

Are you planning on cycling around Lake Tahoe anytime soon? When you do, why not pack delicious snacks to fuel you on your journey?
Tahoe Trail Bars are non-GMO, vegan, and gluten free energy bars made with the best ingredients possible. While you're breathing in that clean mountain air, you can eat clean, too!