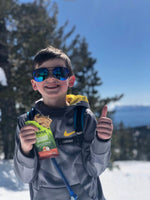 School is out for the summer and this weekend is calling for amazing weather, time for some kid adventures. The kids already have cabin fever and you are running out of ideas on how to keep them entertained. But, where do you start? How can you tire them out while getting your child to love exploring the outdoors? We have some tips for you!
1. Pick a day, time, and place.

When planning an adventure, we like to start early and keep away from the afternoon heat. Hiking in the morning is ideal because the air is fresh, crisp, and refreshing! Let's face it, that summer sun is hot and drains your energy very quickly. Make sure you increase your elevation, travel near water, and find some shade. Those cooler mountain temperatures provide some relief and can make you adventure that much easier. The hotter it is, the more shade we like to find. Plan a path that is well shaded with trees. Whether that's hiking near a creek or to a lake, seek out cool water, as it provides a perfect place to take a break and recharge. For your kid adventures, make sure you choose a location that is appropriate for everyone (you might think that 6 hour hike to the summit will be epic, and it probably would be, but your 5-year old most likely won't agree). Do your research, check the elevation gain, and read reviews. Make it a day that everyone can enjoy, even if that means starting small.
2. Pack smart
Depending on the weather, location, and bugs, think about packing extra layers. Don't forget an extra pair of shorts and socks for when someone "accidentally" falls into the creek. Some of our personal go-to items include: hiking shoes, a backpack, (extra) water, sun screen, bug repellant, band aids, a flashlight, tissue, hat/sunglasses, and healthy snacks. Grandma likes to take her hiking poles, but that's personal preference. We always pack a few extra Tahoe Trail Bars when we need that long-term energy boost, and if we need to share with someone along the way! We also like to have organic fruit snacks available (to keep us going that last mile back to the car). Let me emphasize though… Nothing is worse than being hangry with uncomfortable shoes on the trail, trust me.
3. No pressure, take breaks.
Plan a hike that is fun for the whole family. Start with a short adventure exploring the mountain surroundings. If you are on a hike, plan reasonable and visual breaks. When Drake is becoming tired, we look ahead and find a cool landmark. Whether it's an awesome shaped tree, a nice shady spot, or a giant rock, we set a goal to get there and then take time to rest. We also like to set a long term goal. We love to get a treat like frozen yogurt after a nice long hike (which can also be encouraging for your kiddos too). You know your children best, when you start to see them get tired or irritable, it might be a good time to take a break and eat a snack.
4. Have fun!
The most important thing is to have fun and take it all in! Nothing is more enjoyable than having an adventure buddy. Whether it is a friend from school or a fur baby, journeys are better with company! Drake also loves to cool off in the nearby water as well as play games on the trail, like eye-spy or hide and seek. Make sure you are experiencing nature and all of its glory! Ask questions and encourage exploring! We like to talk about our senses: what kind of things do you see, hear, smell, feel, or even taste?
Some of our favorite kid-friendly local spots:
Whites Creek
Galena Creek
Hidden Valley Park
Tahoe Meadows
Tahoe Rim Trail
Thomas Creek
Callahan Ranch Trail
You can start the love for the outdoors when your children are young! We started going on kid adventures when Drake was about one year old. What started as "mommy's therapy sessions," turned into a passion for the outdoors! Up until Drake was about 3, he would go hiking in a pack on my back. We would frequently go on 4-6 mile hikes, with the longest being 11 to Relay Peak. Drake's favorite thing to do was snack and take naps while in the pack. When he would get restless, he would do his own exploring (especially with sticks)! Now Drake is 5 and loves to hike, paddle board, bike, and snowshoe. We would love to see your family adventures! Tag us and Follow @drakesonthemove
Happy Exploring!
Stephanie and Drake
If you are looking for non GMO, vegan, gluten free energy bars for on the trail or off shop Tahoe Trail Bars. Read about our mission to build 1,000 miles of trail in 10 years. If you've never tried a Tahoe Trail Bar, now's your chance to see what all the fuss is about. Use the coupon code: PlantBasedFuel and receive $5 off your order. Buy Bars here. Savings never tasted this good!