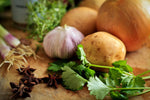 What is the Impossible Burger up to?
Here at Tahoe Trail Bar, our office is full vegan curious people. We wonder all about the lifestyle and how plant based diets are evolving. Impossible Burgers and Beyond Meat are breaking our cultural norms and revolutionizing plant based diets.
The Impossible Burger is more focused on converting carnivores rather than catering to those who have already gone meatless. This plant loving company is notorious for discovering the secret to a plant based burger that tastes nearly identical to red meat burgers. Most people cannot tell the difference, according to 100 taste tests conducted each week by Impossible Foods. It passes all of the necessary meat lovers' tests; taste, texture, smell and appearance.
Impossible Foods' mission is to save the earth by replacing meat with delicious plant based meat. We know how great their cow replacement burgers are, but they are also entertaining the idea of creating plant based replacements for chicken and pork.
This mouthwatering burger is not yet in grocery stores, however, they are not far from launching in that market. Impossible Burgers will be available in U.S. grocery stores later on in 2019. For now, you can find them in restaurants nation wide such as; Red Robin, Qdoba, White Castle, Fatburger, plus many more.
Beyond Meat
Beyond Meat is also stirring up the meatless trend. Their mission, similar to Impossible Foods, is to "[solve] four growing issues attributed to livestock production: human health, climate change, constraints on natural resources and animal welfare". After the company went public, it did remarkably better than they had anticipated. On their NASDAQ page they state that "Beyond Meat is one of the fastest growing food companies in the United States".
The future of meatless meats is here. As sustainability and health consciousness trends rise, the better these companies will be able to contribute. Here at Tahoe Trail Bar we believe making small changes like this will contribute to a better world; one in which sustainable farming practices are the norm worldwide.
If you are looking for non GMO, vegan, gluten free energy bars for on the trail or off shop Tahoe Trail Bars. Read about our mission to build 1,000 miles of trail in 10 years. If you've never tried a Tahoe Trail Bar, now's your chance to see what all the fuss is about. Use the coupon code: PlantBasedFuel and receive $5 off your order. Buy Bars here. Savings never tasted this good!