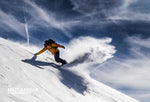 We are on the hunt for ambassadors who want to tout our plant-based fuel!

We are looking for YOU! Do you have what it takes? We are scouring the nation for outdoor adventure addicts who crave our plant based, non-gmo, gluten-free fuel. Whether you like gettin' rad in the mountains, ocean, lake, air, snow, sunshine, or desert we are officially launching our search for fanatics who want to rep our fuel this year.
Start Date: Tuesday 2/26/19
End date: Midnight Tuesday 3/26/19
Announce Winner: Week of 4/1/19
How participants can apply:
Post a video or photo on your personal Instagram and/or Facebook account showing us why you should be selected to represent TTB.
Tag @tahoetrailbar in the post.
In the caption, tell us WHY you would make a rad Tahoe Trail Ambassador and also include the hashtags #FuelForTheJourney #2019AmbassadorHunt
Ambassador Duties
Ambassadors will be asked to provide content of their very own journeys. Any content provided to Tahoe Trail Bar will be published giving the ambassador authorship and appropriate photo credit.
Ambassadors will be required to:
Provide a professional headshot
4 blog posts a year sharing your favorite seasonal outdoor journeys.
2-3 weekly social media posts displaying the ambassador toting our fuel and getting rad in the outdoors using the hashtag #fuelforthejourney and #tahoetrailbar
Additional photography is

strongly

encouraged! Any ambassador photography that is shared with us will be featured on our website and/or our social channels
Ambassador Perks:
Featured in blogs and social media posts
Many other opps to help feature ambassador badassery
Winners will be announced: The week of April 1st, 2019
---
Tahoe Trail Bar is the perfect plant based nutrition powerhouse for the 'outdoor obsessed' who hunger for high-quality, great tasting fuel. We want to make it possible for them to push their personal limits while also serving a higher planetary purpose through 1% For The Planet. Because trails are the essence of our passion, we are on a mission to impact 1,000 miles of trail in 10 years. Each box of non GMO, vegan, gluten free energy bars purchased will impact new and existing trails.
Use the coupon code: PlantBasedFuel and receive $5 off your order