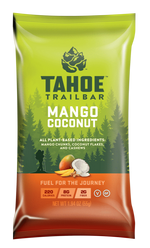 Picture yourself walking through the grocery store in the snack aisle – there are so many new brands popping up that nearly entire aisles are devoted to granola and energy bars! 
But which energy bar should you pick?
With so many options on the market these days, choosing the right bar for you can be overwhelming! It's important to look beyond the alluring buzzwords many brands employ and keep an eye out for these five key elements when shopping for your on-the-go meal and/or snack. 
After all, you don't want to end up paying top dollar for a glorified candy bar. 
In this post, we are going to show you how to pick the perfect energy bar and what you should be looking for when shopping for energy bars.
Lets dive right into it. 
Non-GMO
Organic non-GMO foods are grown without pesticides, and tend to be richer in nutrients than their genetically modified counterparts. 
Research into the health benefits of non-GMO foods is still in its early stages, but some scientists hypothesize that genetically modified foods are linked to cancer and can lead to antibiotic resistance in humans. 
At Tahoe, we think it's better to be safe than sorry. That's why we use real foods that come from natural sources—not ones created in a lab. 
Long-Lasting Fuel
It's important that an energy bar actually energizes you and doesn't just provide a 15-minute sugar rush. Ingredients to look for are those that break down slowly and sustain you throughout the day.
Short Ingredient List
This goes without saying, but people want to know what they're putting into their bodies. 
If the ingredient list on a product seems never ending and is filled with words you can't pronounce, it's hard to make sure that what you're eating is actually good for you. 
Tahoe Trail Bars are crafted with whole foods like gluten-free oats, nuts, and real fruit that you can feel good about eating.
Plant-Based Protein
Plant-based proteins keep you fuller longer and contain more fiber than animal-based proteins, according to LiveScience.com. 
They also tend to be lower in calories and fat. Not only does fiber keep you satiated, it also promotes healthy digestion and regulates bowel movements.
The U.S. Department of Agriculture estimates that animal agriculture in the U.S. generates more than three times the amount of raw waste that Americans produce annually. 
By reducing your intake of dairy and eggs, not only do you reap the benefits of plant-based protein, you're also helping the environment.
Actually Tastes Good
This may seem obvious, but there are so many bars on the market these days that barely taste like food. 
Whether you're using an energy bar as a meal replacement or to keep you fueled on the trail, it's important that what you put in your body is not only good for you, but tastes amazing, too! 
Tahoe Trail Bar's flavors like Mango Coconut and Caramel Chocolate Chunk satisfy your cravings and keep you energized throughout the day.
At Tahoe, we make bars that are actually good for you. Our Trail Bars consistently deliver satisfying, clean energy that will fuel you throughout the day, whether you're on a quick midday hike or an intense, long adventure. When you're looking for the best energy bar to eat, you can opt for Tahoe Trail Bars with confidence.