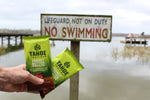 Nothing screams Florida like canoeing in the middle of a rippling, navy lake and wondering if your oar will accidentally bump a gator. That situation – with some paddleboarders and sailboats a few paces away – is exactly what you'll find at Lake Wauburg in Gainesville, Florida. Maintained by the University of Florida and crawling with outdoorsy types, Lake Wauburg is only 15 minutes away from campus – and it's free for UF students! Toting my Tahoe Trail Bars and in desperate need of trees, sunlight, and physical activity, I spent an afternoon at Wauburg at the beginning of this semester. Although there's a kaleidoscope of activities at Lake Wauburg (i.e. rock climbing, ropes course, sports field, swimming), I usually opt for mountain biking and canoeing. This January afternoon, I decided to canoe first (it was a beautiful day outside, a warm 70 degrees with puffy clouds) and hit the mountain biking trail later. I was definitely going to need my Tahoe Trail Bars, the peanut butter chocolate flavor with earthy sunflower seeds and dried cranberries. I've written about Tahoe Trail Bar fuel before, but the Hawthorne Trail (also in Gainesville) is way less intense than mountain biking or canoeing – I was going to need all 260 calories/bar just to stay focused!
To put it simply, canoeing is really challenging for me and my noodle biceps. But it's so calming rowing to the middle of Lake Wauburg and stopping for a moment, if only to watch the seabirds dip their heads or a rogue butterfly parade its wings. The lake is also expansive, so despite the kayaks, paddleboats, and sailboats on the water, my friend and I felt as if we were alone and still. Also, paddling with two people was way more challenging than I imagined – I was the caboose of the canoe, meaning I was steering our direction with all the grit I could muster. Nikhil, on the other hand, was lofty at the tip and merely guiding our direction with a few wrist flicks. We ended up near the fringes of Lake Wauburg near the overgrowth of greenery; it was so tangled and matted, a thousand alligators could've been underneath. The most frequent wildlife we observed were water birds – and loads of them! Their squawks and chirps interrupted our silence, but the birds themselves were so cute, especially the ones dunking their down feathers in the waters. Sadly (or luckily), we didn't glimpse any gators.
At the other lake on UF's campus, Lake Alice, it's a common sight to see mid-size alligators lounging on the sidewalks, barely moving when a freshman runner goes past. We didn't so much as see a ripple, let alone a pair of scaly eyes. Since we were far from the docking area (in so-called Land's End), I had to summon all my muscle power again and guide us back to shore. It's amazing that UF can offer these resources to us for free – the life jackets, the knowledgeable staff, the boats. Interacting with nature through physical activity makes me feel so connected and productive, like greenery and rarified air is bringing out more of myself.
After drying our feet and peeling our lifejackets off, Nikhil and I headed to Lake Wauburg's South Shore. The separate entrance is further down Highway 441, that famous road memorialized in Tom Petty's song, American Girl. We happily munched on Tahoe Trail Bars while listening to Mac Ayers and chattering, ready for our next adventure. There's something so ironic about "mountain biking" in Florida, the land of rolling flats and as much landscape variety as a cement wall. I originally started biking at Wauburg because I didn't own a normal bike; going to the Lake was the only way to rent a free bike and helmet! Although I've had my fair shares of scrapes and mosquito bites on the trail, it is 100% worth the sweat, near-death experience of peddling headlong into a mangrove, and muscle strain. Nihil had never mountain biked at Wauburg before, so I warned him "this is a beginner's course, be careful" (he rolled his eyes, being a seasoned biker in San Francisco himself).
The biking trail is…. enigmatic, to say the least. The path winds and sharply curves, crosses service vehicle roads and nearly splits off into boggy water. We hitched our bikes into mid-gear and started out, getting lost at least once and beaten by the brambles. It was so refreshing biking in Florida and actually feeling natural resistance under my legs. The Hawthorne Trail has its doozies, but Lake Wauburg has roots, critters, and ropes courses on the trail. One section of the trail opened onto the sports field, a verdant area that was empty except for a bedraggled soccer goal. We took our time on this field, biking around and circling each other and laughing within this manmade quad. The grass was the color ofTahoe Trail Bar wrappers and although we were sweaty, biking so freely was liberating. We eventually reined ourselves in (Nikhil had to reign me in), and we rejoined the course, finishing a quick thirty minutes later. The biking trail ended in a steep dip so the momentum from accelerating downhill almost "shot us out" of the course, like a pinball.
Nikhil had a mosquito bite on his cheek and I was breathing hard, but the experiences – both at the lake and on the mountain biking trail – were fantastic. If it weren't for our constant Tahoe Trail Bar snacking, our glucose levels would've been sad (and unable to work so hard!). Even in flat-footed Florida, it takes fuel and curiosity to push your body, for it to become part of the earth it's playing in. I can't wait to return to Lake Wauburg before I graduate, even if only to get a mosquito bite on my thigh and eat a trail bar.
ABOUT THE AUTHOR: @Mackenzie_Patel Mackenzie Patel is a masters of accounting student at the University of Florida. She loves biking on the Hawthorne Trail, going to hot yoga classes, and writing about music, nature, and food in her spare time!
Tahoe Trail Bar is the perfect plant based nutrition powerhouse for the 'outdoor obsessed' who hunger for high-quality, great tasting fuel. We want to make it possible for them to push their personal limits while also serving a higher planetary purpose through 1% For The Planet. Because trails are the essence of our passion, we are on a mission to impact 1,000 miles of trail in 10 years. Each box of non GMO, vegan, gluten free energy bars purchased will impact new and existing trails.