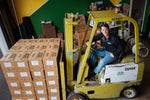 This post was originally featured on Northern Nevada Business Weekly
RENO, Nev. — Wes King, like many ambitious entrepreneurs, tried to do everything on his own when he first became the owner of Tahoe Trail Bar in 2010.
King even used his Subaru as the company delivery truck. Packed with pails of peanut butter and stacks of energy bars, King trudged around Lake Tahoe's west and south shores multiple times a week, selling his product to cafés, buying ingredients from suppliers, making bars at his workshop — rinse, repeat.
"There's a lot of time sucked up in that," King told the NNBW. "And, at the beginning, I had a completely ineffective pricing model, which didn't allow me to make nearly enough margin to do anything except pay for ingredients.
"I was just … going bankrupt."
King's Subaru-dependent business venture eventually bottomed out — quite literally.
One day, he drove into a café parking lot with his vehicle's backend dragging behind "like a dog that had paralyzed back legs," he recalled. Sure enough, his back axle was bent down two inches, a mechanic later told him, due to hauling around nearly 4,000 pounds every other day.
"It's just the quintessential entrepreneurial story," King laughed. "You're trying to do everything yourself with all the wrong tools and with no strategy behind it to actually get your head above water."
Fast-forward to the present day, King's energy bar business has been riding a multi-year wave of success. READ MORE
Tahoe Trail Bar is the perfect plant based nutrition powerhouse for the 'outdoor obsessed' who hunger for high-quality, great tasting fuel. We want to make it possible for them to push their personal limits while also serving a higher planetary purpose through 1% For The Planet. Because trails are the essence of our passion, we are on a mission to impact 1,000 miles of trail in 10 years. Each box of non GMO, vegan, gluten free energy bars purchased will impact new and existing trails.