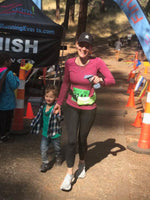 My first Half Marathon, The Bizz Johnson Trail
Crunch. Crunch. Crunch. Crunch. Crunch.
My first half marathon has begun.
It's a crisp 42 degrees and I'm feeling motivated to get moving. It's so much easier to keep moving when there is a chill in the air.
The first couple of miles should be easy but I haven't found my stride yet. By mile 3 I'm in autopilot and the adrenaline has taken a back seat.
I'm enjoying the race now.
Taking it in.
Is the whole race going to be this beautiful? I'm seeing every color Autumn has to offer. There is a moving river to my right and then to my left.
I'm warm enough now to shed my vest.
People are starting to run back in this direction. That must mean the 10K turn around is coming up.
We all started together, huddled on a train track. Listening to the announcer's mentions of Eliud Kipchoge's sub 2 hour marathon record just one day previous. What an inspiration, a reminder of what our human bodies are capable of.
Crunch. Crunch. Crunch. Crunch. Crunch.
I approach a tunnel, Although lights have been laid throughout, I cannot see where my feet are landing. Trying not to twist an ankle this early on I wonder, are there animals in here with me? Watching all us crazy humans run by.
Mile 5 has always felt the longest to me. Not quite on the favorable side of 10, yet losing the optimism and freshness of the first part of ten.
I hit mile 6 and I know it's almost time to hit the half way. I know it'll be slightly downhill since so far I've been going up.
I hear my son Cohen's voice. I see him running at his full 4 year old speed towards me. His enthusiasm gives me joy that cannot be rivaled. He yells, "Mama, there are snacks! Mama, want some chips?!" I'm half way there.
The next few miles are wonderful. I'm taking it all in.
The scenery, the camaraderie shared between runners as we pass each other, the positive interactions with the volunteers at the aid stations. The feeling of benefiting from all my training runs.
Crunch. Crunch. Crunch. Crunch. Crunch.
Fatigue in my body sets in. I'm feeling myself tell my legs to lift up and not drag. My hip flexors are feeling rickety. Mile 12, my calfs are starting to feel like they are going to cease up. I need to walk. For the first time today, I just need to walk.
Those last two miles were a challenge. But that's why I was there, to challenge myself. I needed those challenging two miles. It was in those two miles that I look back with pride. I put myself there. I didn't give up, I didn't break much to my surprise. I kept going, I kept a good perspective and I earned that medal in those two miles.
As the rocky path turned to powdered dirt, I saw the flags. I saw my son again, running towards me. The sound of horns as I approached the finishing line.
"Mama, do you want snacks?! There are snacks Mama! Want a cookie? Want chips?"
I really did it. Me, my legs, my feet, my mind. Carried my body 13.10 miles on trail.
I run for meditation.
I run to feel that hit of fresh oxygen in my lungs.
I run to get outside.
I run to feel alive.
I run because never, not once, have I ever regretted it.
That is the fuel for my journey.
Before signing up for this event, I never knew myself as a distance runner. I was never an athlete growing up. It wasn't until my early 20's living in Lake Tahoe that I discovered the joy of hiking, then backpacking. Biking became a love of mine and will always be.
Then moving to Reno, I discovered running. However, it was always a short 3 miles.
When I had my first child I realized what a source of meditation and release running could provide for me. Even if I had my son in a stroller, I felt like I was getting a break in the middle of a challenging day in Motherhood. I could get a short run in and be fully charged to take on the rest of the day. Running became a sanity saver for me.
When I signed up for the Bizz Johnson Race I wasn't sure how it would go. I wasn't sure if I was going to like running distances. I thought I would just get bored.
I was so very wrong. The gift of running a long distance was the same gift I found in running short distances. Although the high lasted longer. I would feel a sense of peace throughout my whole reality for two days after running ten miles. It was a huge gift to discover.
Run, walk, hike, bike. Whatever you need to do, get outside and give yourself a gift. You'll never regret it.
Tahoe Trail Bar is the perfect plant based nutrition powerhouse for the 'outdoor obsessed' who hunger for high-quality, great tasting fuel. We want to make it possible for them to push their personal limits while also serving a higher planetary purpose through 1% For The Planet. Because trails are the essence of our passion, we are on a mission to impact 1,000 miles of trail in 10 years. Each box of non GMO, vegan, gluten free energy bars purchased will impact new and existing trails.
Use the coupon code: PlantBasedFuel and receive $5 off your order