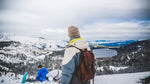 The Bar of Vegan Athletes
I am not a doctor, but I am an outdoor adventurer and a vegan athlete.  With this in mind, I am always looking for the next book, article, or blog post about the science of performance nutrition.  I am voracious in my pursuit of knowledge and inspiration to achieve peak performance. As I seek new information about human biology and nutrition, I am continually reminded that every study reinforces a few key metrics that define good performance energy bars.
Why Performance energy Bars?
There are hundreds of bars on the market, and at times I feel overwhelmed! All of them seem to espouse their various features that make them the latest and greatest.  For me it comes down to common sense, and a bit of proven science.  For me, a performance energy bar first and foremost needs to taste good.  If it tastes chalky, dry, or bland, especially when I am in the middle of an endurance effort, all bets are off.  As long as the taste is decadent, I look for something that is Non-GMO, plant-based/vegan, is easily digestible and has a 3 to 1 ratio of clean carbohydrates to protein that is usable by the body.  
Finding The Right Carb:Protein Ratio
For me, the nutrition bar market sometimes overlooks the correct ratios in favor of gobs of protein.  Achieving this golden ratio allows the body to actually absorb the protein to help with muscle repair. All the while, the clean carbs provide the energy you need in the form of glycogen.  After trying most every bar on the market, I have to say, my favorite performance energy bars are the Tahoe Trail Bars.
The Tahoe Trail Bar strikes the right balance of being great tasting, Non-GMO, gluten-free, and plant based, all while providing performance features like the 3 to 1 carbohydrate/protein ratio.  Oh, and did I mention that they taste amazing? They truly are better than any other bar I have ever tried.  It also doesn't hurt that while providing great performance energy bars to the world, the Tahoe Trail Bar also gives back by supporting trail building and improvement.  They even have a goal of impacting 1,000 miles of trail by 2030.
It's the triple win of solid nutrition, fantastic taste, and a mission with impact! Grab some today at tahoetrailbar.com.