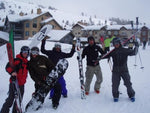 Hey TTB Fans, Wes here.
I don't often write for our blog but I wanted to tell you a story. When I was young, my favorite snack was the Quaker Oats chewy peanut butter chocolate chip bars. I used to love to play in the woods, and I would take the variety pack box out of the cupboard, throw back the oatmeal raisin and peanut butter bars, and stuff all of the Peanut butter Chocolate chip bars in my pocket. Somehow with those bars, it felt like I could stay in the woods forever! I went through many pairs of blue jeans digging for ants, whittling wood, and listening to the birds in Tennessee.
As I grew up, playing in the woods became mountain biking, backcountry skiing, hiking, trail running and backpacking. But one thing remained the same. There was always a bar in my pocket.

Fast-forward to 2010…

The Tahoe Trail Bar began taking roots, it became my sole mission to come up with a recipe for a bar that tasted just like that Quaker Oats chewy peanut butter chocolate chip. We got out a mixing bowl, oats, chocolate chips, peanut butter and went to work.
Wes and the crew in 2010, getting rad on the slopes
In the early days, people liked to joke you could ski an entire day at Heavenly on one of our homemade 800 calorie monster bars! But damn did they taste good. That very bar has become the Peanut Butter Chocolate bar you eat today.
Our company has grown since the days in the coffee shop, but our mission at Tahoe Trail Bar remains much the same. Make great tasting bars so that people can have scrumptious fuel outside, and give back to trail building organizations so that we can all enjoy the outdoors for years to come.
Tahoe Trail Bar is the perfect plant based nutrition powerhouse for the 'outdoor obsessed' who hunger for high-quality, great tasting fuel. We want to make it possible for them to push their personal limits while also serving a higher planetary purpose through 1% For The Planet. Because trails are the essence of our passion, we are on a mission to impact 1,000 miles of trail in 10 years. Each box of non GMO, vegan, gluten free energy bars purchased will impact new and existing trails.
Use the coupon code: PlantBasedFuel and receive $5 off your order