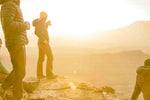 Some of the best sights to see in America are in the Sierra Nevadas. National parks are particularly beautiful and fun to explore. The Sierra Nevadas contain Yosemite National Park, Kings Canyon National Park, and Sequoia National Park. Please note that mountain bikes and dogs are not allowed on the trails of National Parks.
Here are the 10 best hikes in the Sierra Nevadas ranked from awesome to phenomenal:
1. Yosemite Falls Trail
This trail travels near Colombia Rock and lower Yosemite Falls and ends up at the tallest waterfall in North America, Upper Yosemite Falls. Each of these vistas have gorgeous views unique to Yosemite. On this hike, you can also ponder the valley far below and its surrounding mountains including the famous Half Dome. This hike is 7.6 miles with a 2,600 ft elevation gain. This strenuous hike can be completed between 6 - 8 hours.
Tahoe Trail Bar has the best energy bars for hiking. It is the perfect plant based nutrition powerhouse for the 'outdoor obsessed' who hunger for high-quality, great tasting fuel. We want to make it possible for them to push their personal limits while also serving a higher planetary purpose through 1% For The Planet. Because trails are the essence of our passion, we are on a mission to impact 1,000 miles of trail in 10 years. Each box of vegan energy bars purchased will impact new and existing trails.
Use the coupon code: PlantBasedFuel and receive $5 off your order
Antioxidants
2. Mount Whitney Trail
Buckle up for a long, but worthwhile day hike. This 22 mile, 6,960 foot ascent will take between 12 and 16 hours. This one is for you experienced hikers to try out. The highest elevation point is at 14,505 feet. You will feel a great accomplishment completing this trail as Whitney Peak is the tallest mountain in the contiguous U.S.
This trail requires a permit, due to how extremely popular this hike is, which is awarded by a lottery. Furthermore, the trail is only open from May 1st to November 1st because of the harsh snowy winter.The best chance to hike without snow on the trail is July or August; this is also the safest option.
It is also important to notice altitude sickness symptoms, as severe cases can be fatal. Symptoms include headache, nausea, lack of appetite, swelling, dizziness, confusion, and loss of coordination. If you develop severe symptoms, you must descend immediately. You are more susceptible to altitude sickness if you live in low elevation.
3. Mist Trail
If you want to see two spectacular waterfalls of Yosemite, this is your trail. Featured are the Vernal Falls (3 miles round trip, 2 hours) and the Nevada Falls (7 miles round trip, 5 hours). This hike includes a 1,000 elevation gain to Vernal, then an extra 900 to Nevada Falls.
4. Panorama Trail
Panorama Trail is one of the most memorable hikes in the Sierra Nevadas. Accurate to its name, this features the best panoramic view of Yosemite. This hike is 8.5 miles with a 3,200 foot descent, ending at Happy Isles in Yosemite Valley. Depending on how frequently you stop, this hike can be done within 5 - 7 hours. In the last bit of the hike you may choose the mist trail that includes many rock stairs, or the John Muir Trail if stairs are not your preferred trail.
5. Redwood Mountain Loop
Containing 2 trails, Hart Tree Trail and the Sugar Bowl Trail, this is a hike where you will best enjoy the enormous sequoias. Moderately difficult, 1,929 foot ascent, 10 miles long, and takes between 6 - 8 hours to complete.
6. Tokopah Falls Trail
Tokopah Falls is the largest waterfall in Sequoia National Park, and is one you won't want to miss. 4.1 miles out and back, 530 feet elevation gain, and takes about 2.5 hours to complete. This is a popular trail with only moderate difficulty so expect to see some other hikers.
7. Crescent Meadow Trail
In Sequoia National Park, this short easy hike is suitable for the whole family. This is a 1.6 mile loop with only 150 feet elevation increase. Exciting features include Tharp's Log which is a summer home made out of an actual fallen tree that a man named Tharp once created, and Chimney Tree where you can stand inside a giant sequoia.
8. Moro Rock Trail
Moro Rock in Sequoia National Park is a marvel to observe, this is why this is a heavily trafficked trail. This hike is only .4 miles but the elevation gain is 187 feet, containing many stairs. This trail is marked as moderately difficult. Here you will go out to the vista where you can see the landscape from a birds eye view, and back down the same way you came.
9. Buena Vista Peak
Only 2 miles out and back, the top of this trail in Kings Canyon National park will truly make you feel tiny among this world as you gaze at miles of treetops on top waves of mountains. This hike has a 413 feet of elevation gain. This trail is great for all skill levels. Expect moderate hiking traffic.
10. Upper Natural Bridge Trail
This beautiful Vallecito, CA out and back hike is 2.1 miles round trip with a 380 feet ascend. This is a hike that all skill levels can enjoy. Expect others to be hiking at the same time since this is a fairly popular hike. This hike is special because it leads to a gorgeous limestone cave that has been carved out by the creek, and you can take a swim break here.