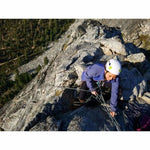 I purchased my first pair of rock climbing shoes last fall after recovering from a torn rotator cuff accident that happened while snowboarding in Japan. With a slight under rotation while backflipping a hip, I paid the price and was out during the biggest winter in years. People would say I am the worst patient ever. I still have not figured out how to sit still (injured or not). Even in a sling I was backcountry touring all winter. Not the smartest idea, but being outside is an addiction.
Rock climbing is a sport that I've always wanted to pick up, but I had been a little timid. With my shoulder not being completely 100%, I knew if I just started climbing my body would get stronger. After the first couple of climbs outside, I fell in love. What a unique and beautiful way to get a panoramic view. Rock climbing does not just allow you to get that "post card view", it also challenges you mentally and physically as well. I would say climbing is the most calming adrenaline sport I do. For someone who is always eager to go, climbing has really made me slow down, focus on my breathing in between moves, and move more like a delicate dancer on the wall. If I try and rush a climb, or get over confident and think any climb will be easy, I will quickly be put in my place. This sport takes a lot of focus from the ground where you attach yourself to the climber/belayer, till you repel off the top.
Gear knowledge is a must since your life is at risk if any piece of gear is not locked, your rope knot is not proper and/or the top anchor isn't correct. I've even had a couple of big scares on the wall while trying to rush. For example, a couple of weeks ago we were climbing in a new zone before work. I had reached the top which was exciting, and because I was so overwhelmed with joy I almost repelled down with one rope touching the ground and the other end of the rope only ten feet from the top. It's imperative to have both ropes touching
the ground during a repel or you will quickly find yourself on the ground, hurt or, even worse—dead. I almost fell 60 ft. This was a rude awakening, and I learned to not rush climbing.
Don't let my almost mistake stop you from learning how to climb. Just after a summer of climbing I have found a new passion. That feeling of being on a wall with 200 feet below you. All you can hear is the wind blowing around you, and your breathing, it's a beautiful thing. You somehow forget about everything that has bothered you that day or week. You have complete focus—a type of focus I've never experienced before. Your fingers may be be yelling at you, and your toes/body in an uncomfortable position...but, that moment you reach the top almost every climber gives a hoot or a "hell yeah that was awesome!" shoutout, and your smile is large and proud.
At the top, your mind erases all the pain and you are instantly filled with adrenaline. I will never be at the level of rock climbing I want to be. There is always something to learn, a harder route to try, and a new place to climb. This will forever be a top passion for me. A year later and I can say my arm feels strong, and I know one of the main reasons is climbing. I hope you all get out there and experience a new sport.
Claire Hewitt-Demeyer is a Tahoe Trail Bar ambassador.
Follow her journeys here.
If you are looking for non GMO, vegan, gluten free energy bars for on the trail or off shop Tahoe Trail Bars. Read about our mission to build 1,000 miles of trail in 10 years. If you've never tried a Tahoe Trail Bar, now's your chance to see what all the fuss is about. Use the coupon code: PlantBasedFuel and receive $5 off your order. Buy Bars here. Savings never tasted this good!