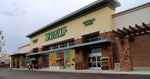 Reno, Nev. - Tahoe Trail Bar, a brand of plant based energy bars, are now available in Sprouts Farmers Markets throughout Nevada and California. Sprouts offers organic foods and products that aim to be environmentally friendly and ecologically responsible.
"A partnership with Sprouts makes perfect sense for Tahoe Trail Bar. They specialize in fresh, natural products and that's exactly what our bars are made of," says Wes King, owner of Tahoe Trail Bar.
Tahoe Trail Bar recently received non–GMO certification by the Non–GMO Project, an organization that verifies and ensures healthy and safe-to-eat foods.
Partnering with Sprouts Farmers Markets further expands Tahoe Trail Bar throughout the western United States. In the last five years, Tahoe Trail Bar has established regional partnerships with major grocers including Whole Foods Markets, Raley's, Save Mart, Safeway, Albertsons, and many more. In 2017, Tahoe Trail Bar partnered with outdoor-retailer REI to offer bars in their stores and online. This recent expansion has resulted in the distribution of Tahoe Trail Bars in more than 1,000 retailers, markets and stores.
Tahoe Trail Bars come in three flavors, Peanut Butter Chocolate, Dark Chocolate Cherry and Mango Coconut.
###
About Tahoe Trail Bar
Born in a coffee shop on the shores of Lake Tahoe in 1995, Tahoe Trail Bar brings the best of nature into a satisfying and fulfilling energy bar. Crafted using all-natural, vegan and gluten free ingredients, Tahoe Trail Bar offers three great flavors – peanut butter chocolate, mango coconut and dark chocolate cherry. Owner Wes King and the Tahoe Trail Bar ambassadors believe so strongly in preserving the natural playground that they call home that they are a member of 1% for the Planet and give a percentage of their sales to organizations that help preserve the Tahoe Basin.
If you are looking for healthy, vegan, gluten free energy bars for on the trail or off shop Tahoe Trail Bars. If you've never tried a Tahoe Trail Bar, now's your chance to see what all the fuss is about.