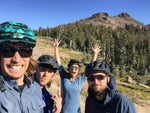 Ahh.. it's here. Fall in Tahoe. As a full-time Tahoe resident, fall, also known as the 'Locals' Summer' is always a welcomed change of scenery. The crowds disperse, work slows down, and I finally feel like I can enjoy Tahoe in all its adventure glory. The mornings are cool with the promise of California sunshine to warm your bones by mid-day, creating the perfect adventure climate, and we finally have the time to get after it however "after it" resonates with you.
This fall I have enjoyed getting back in the saddle after barely touching my bike during the mayhem of summer. It always amazes me how I can so easily get lost in the cycle of working too much, meaning I neglect my friends and activities that keep me grounded. September was pretty dusty but we had the trails to ourselves, which is a special treat in contrast to peak summer. Early October brought transitioning trees and a few days of rain (and of course, snow up high….) settling the dust and stirring the mountain bike community. Brown-pow made its rare appearance in the basin and we had a blast with it. Now we have sunny skies and less dusty trails to go explore new trails and revisit all the favorites, be it hiking, biking, or the approach to the rock climbing. We need to savor these fall days that can so easily be overlooked as we anticipate winter because the temps will plummet and those white flakes will be here soon enough. That's honestly the best thing about fall in the Tahoe Basin - we never know what we're going to get.
This year I am enjoying an extended bike season, icy morning-cool afternoon cycle in contrast to last year, where I found myself camping in 25-degree weather at the end of September with 4 inches of fresh all around. My first year here I was hiking and skiing Mt. Rose on October 6th (hello core shots) and two years ago we were skiing boot deep powder October 19th. As October's end nears, I'm as excited as anyone else about the threat of winter in the cool air, but don't forget to take some time to enjoy the transition of seasons that fall in Tahoe highlights.
Whether it's looking at the insanely glassy waters of Tahoe, speeding down the single track, climbing some big walls, or walking around seeking out vibrant foliage, be sure to take some time and enjoy this incredible weather we're currently enjoying.
If you are looking for non GMO, vegan, gluten free energy bars for on the trail or off shop Tahoe Trail Bars. Read about our mission to build 1,000 miles of trail in 10 years. If you've never tried a Tahoe Trail Bar, now's your chance to see what all the fuss is about. Use the coupon code: PlantBasedFuel and receive $5 off your order. Buy Bars here. Savings never tasted this good!