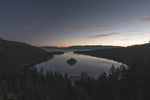 The Tahoe Rim Trail Is How Long?
165 miles, or approximately 12 days of hiking, may be out of your wheelhouse, but not to fear! There are a ton of great day hikes that might strike your fancy. Here is a curated list of our five favorite day hikes along the Tahoe Rim Trail
9.4 miles round trip
Relay Peak is a moderate difficulty trail predominantly used by mountain bikers and hikers. The best time to visit is between June and October. With more than 1,500 feet in elevation gain during the hike, bring plenty of water and get ready for some scenic views!
5.2 miles round trip
Who doesn't enjoy a waterfall? This is a great out-and-back trail for hiking, day trips, and birding. Be sure to keep your dog on a leash and enjoy the view!
12.5 miles round trip
The Lake Aloha Hike is available all year round and is rated as difficult. We recommend a day trip or overnight backpacking adventure. If you're going to stay overnight, be sure to get a permit! It's also recommended to fill out a day permit for safety. Contact the El Dorado Ranger Station for details.
PRO TIP: Fill up your water bottles ahead of time and get to the trailhead early if you want to find parking.
13.6 miles round trip
If you're looking for a less-trafficked trail, this could be your new favorite. Best used March through October, this trail is dog and horse friendly. Though moderate in difficulty, you'll be completing more than a half marathon with more than 2,700 feet in elevation gain by the time you're finished.
11.5 miles round trip
This moderate out and back hike is another excellent June to October hike. It's great for hikers, mountain bikers, and trail runners. Excellent views and a hike that can be easily broken up into smaller sections, Snow Valley Peak is a great choice for beginners through intermediate hikers. Still, advanced hikers would enjoy the scenery and almost 2,300 feet of elevation gain!
Tahoe Trail Bar is proud to contribute funds to the Tahoe Rim Trail Association as a part of 1% For The Planet. These funds go to building and maintaining trails in the Tahoe area. It's one of our primary passions to help get more people outside to enjoy what nature has to offer.
---
If you are looking for vegan energy bars for on the trail or off shop Tahoe Trail Bars. Read about our mission to build 1,000 miles of trail in 10 years. If you've never tried one of the best energy bars for hiking, now's your chance to see what all the fuss is about. Use the coupon code: PlantBasedFuel and receive $5 off your order. Buy Bars here. Savings never tasted this good!