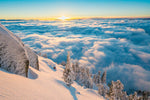 Cody Townsend has been an avid consumer of Tahoe Trail Bars for quite sometime and the feeling over here is pretty mutual. It has been a joy for us to fuel him on some of his biggest adventures. However...his current endeavor, "The Fifty" takes the cake. He is on a mission to 50 classic descents in North America.
Townsend made this announcement beginning in 2019. How has it been going? So far, he has knocked out 13 of the fifty descents. Check out the video below to see where he's at now.
Tahoe Trail Bar is the perfect plant based nutrition powerhouse for the 'outdoor obsessed' who hunger for high-quality, great tasting fuel. We want to make it possible for them to push their personal limits while also serving a higher planetary purpose through 1% For The Planet. Because trails are the essence of our passion, we are on a mission to impact 1,000 miles of trail in 10 years. Each box of non GMO, vegan, gluten free energy bars purchased will impact new and existing trails.
Use the coupon code: PlantBasedFuel and receive $5 off your order