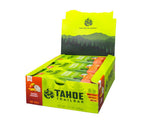 The Supermarket Guru Reports
The Supermarket Guru posted a review of Mango Coconut on Facebook Live ahead of Natural Products Expo West 2018. Watch the video below to find out what score he gave us! Hint: we did pretty well.
From The Supermarket Guru Bio: "Phil Lempert, The Supermarket Guru® , is a TV and print journalist who focuses on marketing, analysis & issues impacting food, health & retail industries. He is the editor of SupermarketGuru.com, The Lempert Report & hosts a weekly radio show airing in 150 U.S. markets and appears regularly on abc News NOW, The View & the TODAY Show."
What did you think of the review? We want to hear from you! Which Tahoe Trail Bar flavor is your favorite?
If you are looking for non GMO, vegan, gluten free energy bars for on the trail or off shop Tahoe Trail Bars. Read about our mission to build 1,000 miles of trail in 10 years. If you've never tried a Tahoe Trail Bar, now's your chance to see what all the fuss is about. Use the coupon code: PlantBasedFuel and receive $5 off your order.