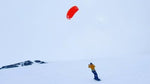 Have you ever been kitesurfing or kiteboarding before? It's the rush of a lifetime.
A last-minute invite out to Alaska from photographer Matt Bansak had me beaming with excitement. I booked my flight and two days later I was in Anchorage, Alaska. We immediately hit the road with our 1st destination being Valdez. Our friend Josh McDonald welcomed us with open arms and his sail boat ready to hit the Port of Valdez. Sea otters and Dall's porpoises were playfully guiding us along on our little voyage until we came to this beautiful beach in a quiet cove. After multiple kayak trips to get all of our gear to the beach, we were ready to explore the Chugach Mountain Range. This was probably the most unique way to access the backcountry that I've ever experienced. Having solitude in the mountains, and embracing the wilderness is a reason why most enjoy backcountry riding. that and of course getting fresh tracks. Weather crept in and we were pretty socked in by the time we reached the summit. Visibility was low, but all I could focus on were the echoes of our hoots and hollers as we rode back to the calm breaking shores. The music was pumping, apres drinks in hand, and dance moves were swaying with the boat as we sailed back in a dark snowstorm. The next morning we woke to blue skies, but due to high avalanche danger we decided to wonder through the Valdez Glacier. Surrounded by massive deep blue ice walls, we loss track of time with the endless amazement. Yet again being the only ones out made it that much more special.
You never know who you're going to meet while traveling, well that definitely applied in a small bar in Valdez where we met professional kite-surfer, Jennie Milton. This woman is full of energy, and her love for being outside and taking advantage of every day is admirable. She took Matt and I out the next day and taught me how to kite board. I needed to eat a big bowl of mash potatoes before my next session since I was picked up and flown across the snow a few times while training. I could not stop laughing with how little control I had with learning this new sport. I can't wait to try kiteboarding again, it's a true adrenaline rush. We parted ways with smiles plastered on our faces.
Our next destination was Hatcher Pass. We arrived in time for a sunset tour, and the views did not disappoint. With clear skies and knowing another storm was approaching the following day we knew we only had one chance to camp out and hope to catch the Northern Lights. This is something I have always dreamed about seeing. Making it a reality with a three hour window of clear skies, and the Northern lights meter rating a three was a chance that Matt and had to take. We set up the tent in the snow prepared for a rather chilly night with temperatures dropping below zero. A little time passed as we played a very intense game of yahtzee and sipping on some hot tasty beverages with my favorite ingredient Rocket Vodka. A slight glance towards the mountains we noticed a green light dancing in the sky. We dropped everything, turned up the music and set the tripod up to capture what we have been waiting all night for. Thanks to Matt for having a fancy camera the colors really stood out after multiple long exposures. I hope everyone gets a chance to witness the Northern Lights in their life time.
Ending our trip on a high note we headed to Alyeska ski resort. Motivated and eager to take advantage of chair access, we got pretty much 1st chair. Fresh snow, no lines, and A+ terrain made for the pristine experience. Meeting a couple of nice locals, we were guided around the new playground, and rode till dusk. 9 days in Alaska was not nearly enough time, but what we experienced was what I call a trip of a lifetime. I am already planning to return in the summer time to have more day light to cram more adventures in. I recommend that everyone visit the 49th state and be prepared to be in amazement with every corner you turn.
If you are looking for non GMO, vegan, gluten free energy bars for on the trail or off shop Tahoe Trail Bars. Read about our mission to build 1,000 miles of trail in 10 years. If you've never tried a Tahoe Trail Bar, now's your chance to see what all the fuss is about. Use the coupon code: PlantBasedFuel and receive $5 off your order. Buy Bars here. Savings never tasted this good!