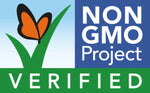 At Tahoe Trail Bar, we are committed to sourcing the best ingredients. To us, this means ingredients you can pronounce, that are Non-GMO, vegan, and gluten-free. After a thorough investigation of our product ingredients, we've been officially verified as Non-GMO by the Non-GMO Project on all three flavors of Tahoe Trail Bars. But what does this mean?
Non-GMO
Genetically Modified Organisms, or GMOs, are foods which are created in a lab using genetic modification/editing technologies. Over the years, there have been a number of health and environmental concerns regarding some GMOs. If you'd like to learn more, here is a great resource.
Non-GMO Quick Facts:
The safety of GMOs is not currently known. Further study is needed to understand the potential risks.
Most packaged foods contain ingredients derived from corn, soy, canola, and sugar beet — and the vast majority of those crops grown in North America are genetically modified.
While most Americans believe genetically modified foods should be labelled, GMOs are not required to be labelled in the U.S.
While becoming GMO certified is a long and arduous process, we believe it is worth it. We are on a mission to create healthy, sustainable bars that contain only the best ingredients for both you and the environment.
Trail Builders
At Tahoe Trail Bar, we're all about building trails and getting people outside to enjoy mother nature. We are committed to reducing our impact on the environment wherever possible. Ensuring our products do not contain GMOs is just one step on that continuous path. We believe that when our customers have a snack in hand they can trust, they can focus more of their energy on the trail in front of them. Whether your journey includes a few extra miles on the Tahoe Rim Trail or an extra long board meeting you just can't miss, we're here for you with a snack you can trust.
If you are looking for non GMO, vegan, gluten free energy bars for on the trail or off shop Tahoe Trail Bars. Read about our mission to build 1,000 miles of trail in 10 years. If you've never tried a Tahoe Trail Bar, now's your chance to see what all the fuss is about. Use the coupon code: PlantBasedFuel and receive $5 off your order. Buy Bars here. Savings never tasted this good!