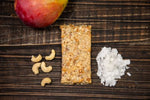 It used to be hard to find on-the-go snacks which contain healthy ingredients. Maybe you would eat that overly-sugared bar that felt like mush in your mouth just to avoid succumbing to an even less healthy snack. Then try finding a plant based energy bar to quell those hunger pangs. You might simply have been out of luck.
Thankfully, things have changed.
Consumers have wanted a great tasting plant based energy bar for decades, but the options were limited and few tasted as good as their non-vegan counterparts. Today, there are many options for the choosy shopper.
There are plant based energy bars which use dates to hold things together. While they taste great, people often complain that the bars stick to their teeth. There are vegan energy bars which contain gluten and GMOs, but some customers can't have gluten or insist on a Non-GMO lifestyle. Where's the bar for them?
Your Plant Based Energy Bar
At Tahoe Trail Bar, we care about reducing our impact on the environment by using only the best ingredients. Not only this, we strive to use ingredients people will love and which taste amazing.
Over the years, our customers have told us exactly what they wanted, and we listened. They wanted plant based ingredients. We delivered. They wanted us to eliminate gluten and GMOs. We delivered. Something they didn't want us to eliminate: the outstanding taste you get when you bite into one of our bars, the feel of the bar in your mouth, and the knowledge that we give back to organizations doing great work in the Tahoe and Sierra regions.
If you are looking for non GMO, vegan, gluten free energy bars for on the trail or off shop Tahoe Trail Bars. Read about our mission to build 1,000 miles of trail in 10 years. If you've never tried a Tahoe Trail Bar, now's your chance to see what all the fuss is about. Use the coupon code: PlantBasedFuel and receive $5 off your order. Buy Bars here. Savings never tasted this good!