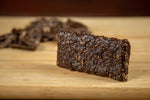 Non-GMO Certification
Tahoe Trail Bar is proud to announce we have received non-GMO certification. Certification is granted by the Non-GMO Project, an organization that verifies and ensures healthy and safe-to-eat foods.
"For us, non-GMO is all about transparency and this certification helps us promote one of our core values, choosing the highest quality ingredients," said Wes King, owner of Tahoe Trail Bar. "The Non-GMO Project vetting process is a rigorous audit of a company's entire ingredient and manufacturing supply chain, and we are proud of the work we have done to achieve this certification. Even though it takes time and energy, we feel that every hour was worth it because it makes our products better for our customers."
Tahoe Trail Bar offers bars in three flavors, Peanut Butter Chocolate, Dark Chocolate Cherry and Mango Coconut. Customers can buy bars at REI, Whole Food Market, Raley's Supermarkets, Savemart, Lucky Supermarkets, and several other natural food stores, retail outlets, and online at Amazon.com.
About Tahoe Trail Bar
Born in a coffee shop on the shores of Lake Tahoe in 1995, Tahoe Trail Bar brings the best of nature into a satisfying and fulfilling energy bar. Crafted using all-natural, vegan and gluten free ingredients, Tahoe Trail Bar offers three great flavors – peanut butter chocolate, mango coconut and dark chocolate cherry. Owner Wes King and the Tahoe Trail Bar ambassadors believe so strongly in preserving the natural playground that they call home that they are a member of 1% for the Planet and give a percentage of their sales to organizations that help preserve the Tahoe Basin.
If you've never tried a Tahoe Trail Bar, now's your chance to see what all the fuss is about. Use the coupon code: PlantBasedFuel and receive $5 off your order. Buy Bars here. Savings never tasted this good!