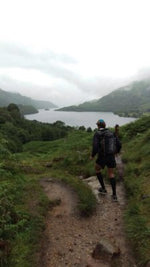 Last month, one of our very own, Adam Kimble, went for a run...a very long run, over 1,000 miles. Ultrarunning is the name of his game. What did you do in July?
Three countries, over 1,000 miles self-supported on foot, and three countries traversed in 31 days. That is the simplest way to sum up my July!
Together with my friend Kris (a native of England), I embarked on a journey across Great Britain from northern Scotland (John o' Groats) to Southern England (Lands End). Though we initially set out on this adventure as a way to see the most beautiful regions of three amazing countries and raise money for two awesome charities in the process, we actually achieved something else along the way. Many people have completed the journey on foot from John o' Groats to Lands End much faster than we did. Many people have summited the "Three Peaks" of Great Britain, which includes the highest peak in Scotland (Ben Nevis), England (Scafell Pike) and Wales (Mount Snowdon) much faster than we did. But NOBODY has ticked off both of those items simultaneously...until now!
When Kris invited me over to see the best Great Britain had to offer, I simply couldn't refuse. I didn't know it until I ran my first 100-miler in 2014, but ultrarunning is my vocation in life. It's the activity I love and have more passion for than anything else. Ultra-trail running takes me to so many places that I wouldn't get to under any other circumstance, and in the deepest, darkest physical and mental struggles, I am born anew as a stronger man. It has truly made me a better person. So, needless to say, I had all but committed to Kris' offer the moment he asked me to join him.
Last year I ran 2,500 miles across the USA in 60 days, hoping to break the Guinness World Record for the fastest crossing on foot. Some early injuries set me way back from the record, but I was still able to complete the mission in very painful fashion. I also walked away from that journey nearly 30 pounds lighter than when I started. This time, I wanted to redeem myself a bit. The goal: have a more carefree approach, remain injury free throughout the journey, and eat like an absolute animal! I set out to enjoy every moment of an amazing running adventure, taking in some spectacular scenery in Great Britain. All three countries were absolutely beautiful, but for my money, the beginning of the journey was the best. Not surprisingly, that was when we ran on the most trails! Starting with the The Great Glen Way and West Highland Way in Scotland, we ran past loads of lochs (including the infamous Loch Ness) surrounded by beautiful Munros (Scottish mountains). To reiterate what I said earlier, ultra-trail running is responsible for leading me to many of the most beautiful places I've ever seen.
Thanks to countless nonsense conversations with Kris, lots of incredibly helpful people and a slew of delicious pints along the way, the mission was accomplished more successfully than I ever could have imagined. We ended up averaging nearly 34 miles per day and ascended a total of 83,523 feet throughout the 31 days. That's nearly three times the height of Mt. Everest! All the while, my combination of a lighter approach and a heavy focus on nutrition and recovery really paid off. When I ran across the USA, I thought it would be better for my body to remain alcohol-free. So, for the entire 60 days, I didn't drink a single beer. This time, I took a different approach: relax, have a few beers and laugh a lot more! It certainly seemed to take the edge off of the large task we had in front of us every day. Thanks to the transcontinental run in 2016, I was also considerably more cognizant of calories and physical recovery. My typical daily diet is mostly plant-based and focused on quality nutrition. For this adventure, I was more focused on total intake of calories. When you're covering 34 miles per day, it's hard to intake enough calories to cover that deficit. The solution? Lots and lots of Tahoe Trail Bars! And anything else that could help build the calorie count. I was eating early and often, making sure to keep myself fueled and strong every single day. Talk about a night and day difference! I also brought a Range Roller massage therapy stick and a golf ball with me, using both of those tools to work out any muscular kinks that popped up along the way. Staying on top of little pains before they became painful injuries was incredibly important. All these tweaks worked together harmoniously and I couldn't believe how great I felt during every single step of the Great British Adventure!
The journey was truly everything I could have asked for and more. I aimed to raise $1 per mile for the American Brain Tumor Association in honor of my late friend who passed from brain cancer last fall, and together we ended up raising more than $1,500! I am eternally grateful for everyone who helped us get from the start line to the finish. And trust me, there were a lot of people! Now that I've run across four countries, the question is: which country am I running across next? Let me know if you have any good ideas for where Tahoe Trail Bar can fuel me on my next ultrarunning expedition!
Follow Adam on Instagram: @adamkimble818
If you are looking for non GMO, vegan, gluten free energy bars for on the trail or off shop Tahoe Trail Bars. Read about our mission to build 1,000 miles of trail in 10 years. If you've never tried a Tahoe Trail Bar, now's your chance to see what all the fuss is about.