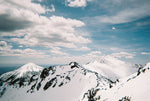 "The mountains are calling and I must go." - John Muir
What's more important than what we do? WHY we do it. Want to know why we started and why we come to work each and every day? Check out our latest video to learn about what fuels us, the why.
If you are looking for non GMO, vegan, gluten free energy bars for on the trail or off shop Tahoe Trail Bars. Read about our mission to build 1,000 miles of trail in 10 years. If you've never tried a Tahoe Trail Bar, now's your chance to see what all the fuss is about. Use the coupon code: PlantBasedFuel and receive $5 off your order. Buy Bars here. Savings never tasted this good!